Welcome!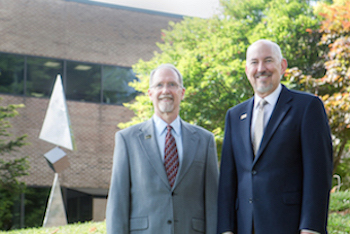 It gives us great pleasure to welcome you to the graduate program in the Hayes School of Music.
We both have the chance to work with an amazing faculty and enthusiastic students from around the nation in terms of research, teaching, and performance. If you are a current student of the Hayes School of Music and need additional information in terms of the graduate handbook, click here for more information.
We currently offer several advanced degrees in performance, and music therapy. We encourage you to find information regarding specific degrees on the program of study pages. Our graduate students are able to work individually with esteemed performance and academic faculty, all of whom strive to deliver excellent instruction and mentoring. Let our current students tell you about why they chose Appalachian by viewing student testimonials. We are proud of our alumni and seek to highlight their accomplishments. Graduates of the Hayes School of Music go on to doctoral programs or find themselves in established performing or teaching careers.
If this website is your first experience with the Hayes School, we hope you will soon learn what we know about us—that an expert, dedicated, and caring faculty continues daily to promote opportunities for students to develop and achieve in virtually all areas of music making. Come visit us in the beautiful town of Boone, North Carolina.
Please do not hesitate to contact either of us if further information is needed. We look forward to working with you!
Victor Mansure
Coordinator of Graduate Studies
William L. Pelto
Dean, Hayes School of Music